It's never too early to start learning about science! Science is all around us, and there are plenty of ways for kids to get involved. One great way is through science kits designed specifically for kids.
This blog post will examine the top 5 best science kits for kids. These kits will surely excite your little ones about science and help them learn about the world around them.
Keep reading to find out which kit is right for your child!
How We Choose The Best Science Kits For Kids
We considered several factors to determine the best science kits for kids. First, we looked at the materials' quality - are they durable and kid-friendly? We also considered the age range suggested by each kit and the overall learning goals that each kit was designed to achieve.
Finally, we considered reviews from other parents and kids to understand how well each kit performed in practice.
After much research, we've determined that the top 5 best science kits for kids include: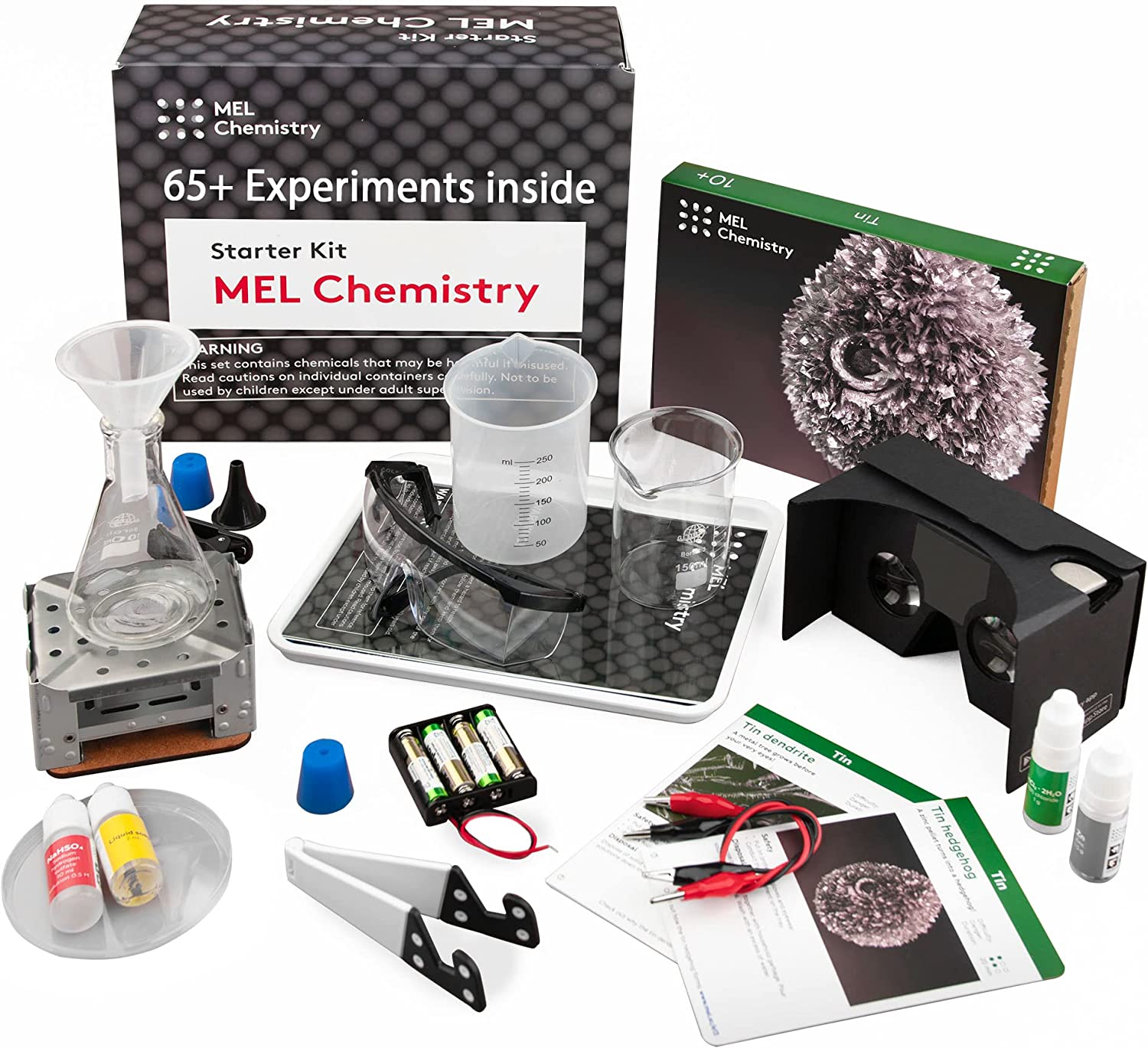 Our #1 Choice
Check Price on Amazon!
1. MEL Science Kit
The MEL Science Kit is a perfect gift for kids who want to learn science. This best science kit
includes 71 high-grade reusable lab equipment and a chemistry box, which includes 65+ science experiments for kids. This kit provides lifetime access to over 70+ VR experiences that help teach your children about science.
With the MEL kids science kit, you can easily create at home fun and educational activities that will keep them entertained while they learn important lessons about how the world around us works. It is also great to get your kids excited about science and learning!
Why We Love It
It comes with everything you need to make fun and educational experiments, and the hands on lessons are a great way to help them understand and remember what they've learned. We also love because the kit is easy to use, so even young learners can get in on the action.
What You Need to Know
These kits should not be used by children under the age of 6. Some of the materials included in these kits can be choking hazards. It is also important to read all instructions and warnings before using any of the materials or experiments.
Our #2 Choice
Just Play Ada Twist On-The-Go Lab
Check Price on Amazon!
2. Just Play Ada Twist On-The-Go Lab
Just Play's Ada Twist On-The-Go Lab is a top-of-the-line science kit that allows children to explore and experiment with chemistry. The set comes with a lab coat, goggles, a carrying case, beakers, a test tube, magnifying glass, a magic school bus, and other tools for scientific exploration. With this kit, kids can learn about the basics of science while having fun. It is also easy to transport, so kids can take their science experiments wherever they go.
Why We Love It
We love Ada Twist On-The-Go Lab because it is a self-contained, take-anywhere lab that encourages creative exploration and imaginative play. It comes with a variety of safe, high-quality tools and materials that are perfect for little hands to use. With its easy to transport design, it's perfect for long car rides and vacations.
What You Need to Know
First and foremost, parents should be aware of the small parts included in this kit as they can pose a choking hazard for younger kids. We highly recommend that parents supervise their children while they are playing with the kit to avoid any potential safety hazards.
Our #3 Choice
Fat Brain Toys Buggy Light
Check Price on Amazon!
3. Fat Brain Toys Buggy Light
This is a great gift for anyone who loves bugs. The Buggy Light is a fun way to discover the beauty of bugs in your backyard. The light from the base illuminates insects, and you can even scroll through a rainbow of colors. Perfect for ages 5 and up.
It is also available in a smaller size for littler explorers. Its compact, easy-to-carry design also makes it perfect for taking on trips. So if your little one loves bugs, this is the perfect kit!
Why We Love It
We love the Buggy Light because it is a great way to introduce kids to the wonderful world of insects. Kids can discover and observe bugs in their backyard - without harming them. It is also easy to carry.
What You Need to Know
First, the Buggy Light is not meant to be used on living bugs. Second, some users may find that the light needs to be brighter for their needs. You can adjust the brightness settings on the base of the Buggy
Our #4 Choice
KinderLab Robotics KIBO 15 Home Edition
Check Price on Amazon!
4. KinderLab Robotics KIBO 15 Home Edition
KinderLab Robotics KIBO 15 Home Edition is a unique and fun STEAM learning platform for children ages 3-15. It combines robotics, coding, and play to help develop creativity, critical thinking skills, problem-solving abilities, and more.
The KIBO robot has an interactive programming app that allows kids to program their movements using a visual drag-and-drop interface.
The robot can be programmed to dance or draw pictures on the screen using an attached stylus pen. Kids can also use the app to control the robot.
Why We Love It
We love KIBO Robotics KIBO 15 Home Edition because it's a fun and creative way to introduce kids to robotics and coding. The robot is easy to assemble and use. And the app provides an intuitive graphical interface.
What You Need to Know
KinderLab Robotics KIBO 15 Home Edition requires 4 x AA batteries and a compatible device such as an iPad or smartphone. The robot is compatible with iOS and Android devices. The app is available in English, Spanish, French and German.
Our #5 Choice
National Geographic Super Gross Chemistry Set
Check Price on Amazon!
5. National Geographic Super Gross Chemistry Set
Looking for a chemistry set that will get your kids excited about science projects? Look no further than the National Geographic Super Gross Chemistry Set! This set is packed with fun, hands-on experiments that will have your kids learning and laughing simultaneously.
Plus, it comes with easy-to-follow instructions that make it perfect for beginners. And if that's not enough, there's even more, to explore with this set!
Why We Love It
It offers a fun hands-on experience for kids ages 8 and up. Designed to make science fun, this kit comes with all the materials needed to complete 10 unique experiments. From creating gooey, slimy substances and growing bacteria to making a stink bomb and erupting volcano.
What You Need to Know
It is not guaranteed that kids will love science after using this set. It is important to note that some kids may find the experiments too gross or strange. Therefore, it is important to know your child's comfort level before purchasing this set.
Frequently Asked Questions
How do I know which science kit is right for my child?
There are many different factors to consider when choosing a science kit for your child, including their age, interests, and learning style. Some of the top science kits for kids, such as Mega fossil dig kit, include those designed specifically for young children. Older kids may prefer science kits that include more complex experiments or teach them new skills and concepts in a fun, engaging way.
Can science kits help my child develop a love for science?
Absolutely! Science kits are an excellent way to introduce your child to the world of science and can help nurture their natural curiosity and sense of discovery. By engaging them in hands-on, interactive activities that are both educational and fun, science kits can help foster a lifelong love of science and exploration.
Is homemade science kit an option?
Yes, you can create a homemade science kit using everyday items around the house such as bottles, paper clips, and food coloring. With a bit of creativity, you can create your own experiments and activities that will help teach your child about science in a fun way.
What does a science kit contain?
There is no single answer to this question, as many different science kits contain various materials and equipment. Typically, however, a science kit will include some combination of educational books, science experiments, crystal growth experiments, activities, materials for conducting experiments (such as test tubes, chemical reactions, or measuring tools), and unique tools or instruments that can be used for scientific exploration.
Bottom Line
Many great science kits for kids are available on the market today. Choosing which is right for your child can be tough, but we hope our list has helped you narrow down the options.
Whatever kit you decide on, your child will surely have fun and learn much from the experience. Do you have a favorite great science kit for kids that didn't make our list? Let us know in the comments below!